Do you often feel overwhelmed whenever you think of organizing your baby's room? You are not alone. Many parents can relate with the unsightly and messy rooms of their little ones. The good thing is that, you don't have to bear this sight ever again. Instead, get ready for a neat and nicely organized kid's room that will also keep your spirits high and energetic.
So, How Do You Achieve The Perfect Look Of Your Child's Room?
Well, depending on how determined you are to keep the room in order, then, you can achieve that organized look all the time. This article will show you how to use what you already have to make that perfect space for your little one.

"add more fun to the room by painting one wall or a section of the wall with chalkboard."
Here are 5 tips that will ensure that your kid's room remains well organized and also give the space a nice interior design.
#1. Use Vertical Space Creatively
Most often than not, vertical space in any given room tends to be forgotten. Use this space to expand the room by using it for storage. There are many readily available materials at home that can be used to make hanging or floating shelves for example. These do-it-yourself shelves will not only add beauty to the room but you will also use them to hold books, toys, backpacks and other items in your little one's room. When neatly arranged, the items will also add to the beauty of the room.
#2. Use The Space Under The Bed
There is a lot of neglected space under the bed. The advantage of using this space is that it is easily accessible to your kid. The little one can manage to set everything back after use. The space can be used to store toys, books and clothing hence creating more play ground and at the same time giving the room a well organized look.
#3. Create Space Illusions Using Color
Use your creativity to make your little one's room look larger by painting the walls with bright colors. Beige, white, light blue and baby pink are some of the most used colors in children's rooms. The benefit of using these colors is that you will not need to repaint every time you change the purpose of the room.
You can also add more fun to the room by painting one wall or a section of the wall with chalkboard. This will give your kids a nice place to scribble and draw when they start learning how to write and draw. It will prevent them from writing on every other surface within their reach as is mostly the case.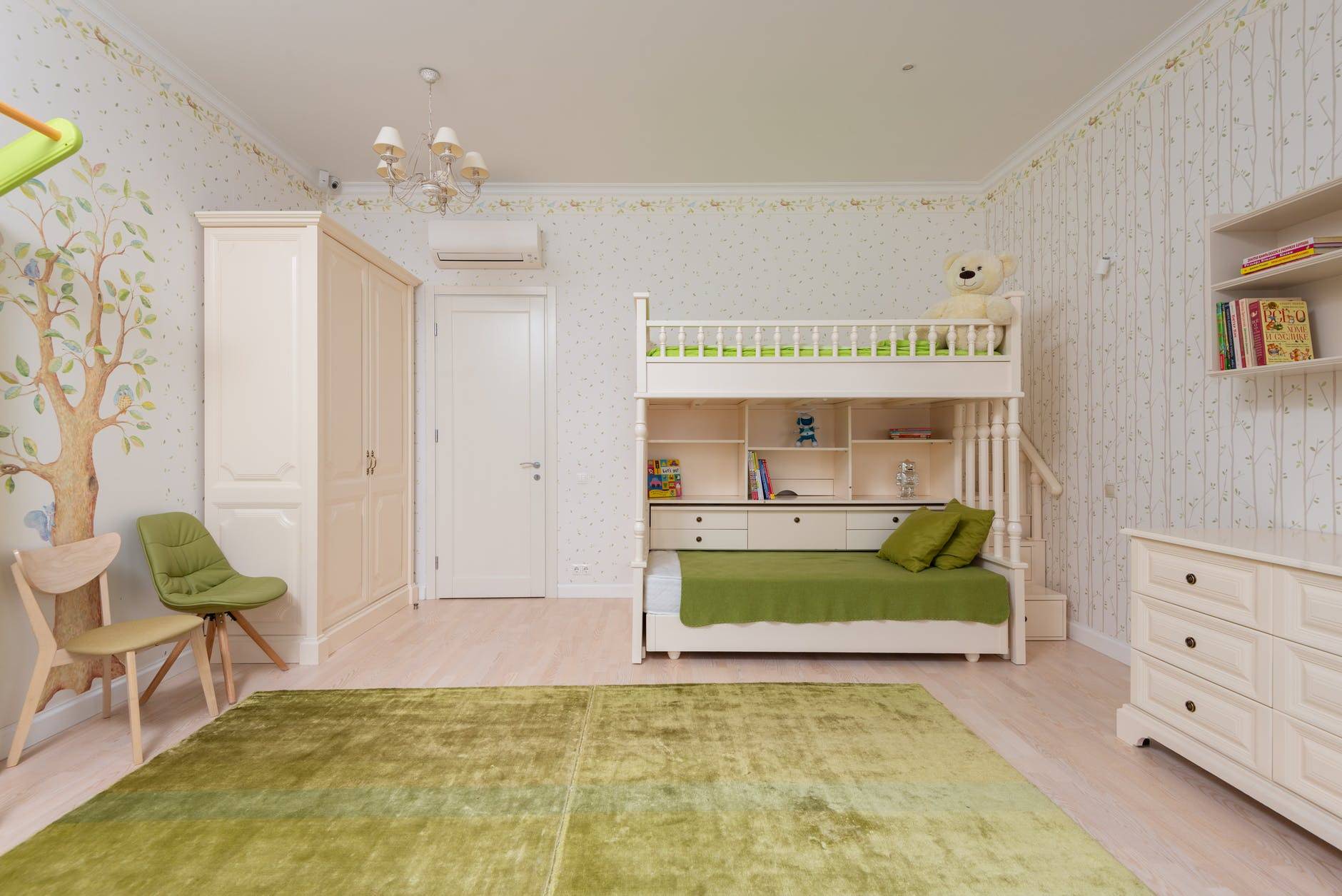 #4. Make Good Use Of Readily Available Boxes, Bins Or Baskets
It's time to pull and dust those boxes, baskets and bins that you had stacked away. You can use them to store clothes like heavy jackets ideal for winter season, shirts, trousers, shoes, boxes, toys, and diapers among others. If you are creative enough, you can decorate the boxes with bright interesting colors and add labels to help in identifying what is in which box. If your kids cannot read the labels, you can use other methods like color or picture labels.
#5. Keep Everything Simple
Whatever you do to make your kid's room look great and well organized, kindly ensure that you keep it as simple as possible. Do not clatter the room with items in the name of designing. Free space will ensure that your kind is safe while playing indoors. Always make sure that all parts of your little one's room are easily accessible. Sometimes simplicity and a little bit of creativity goes a long way in creating a perfect space.