The arrival of a new baby is thrilling to everybody - be it parents, siblings, extended family and friends too. This being the case, it is very important for parents to prepare older siblings on what is about to happen. Although this may not be as easy as it seems, it will make the transition more enjoyable and easier.
The ages of the older siblings will determine how easy or difficult this preparation will be. Of course siblings above seven years old will not have a hard time grasping the unfolding events. However, younger ones will need an explanation that they can understand so as to be on the same page as the rest of the family.
Walking the entire pregnancy journey together as a family will ensure a better and smoother transition for everybody including the newborn.

"... if they ask where the baby will come from, simply say from mom's belly and let him or her feel and touch the belly."
Of course the first step will be sharing the good news with the siblings. Depending on their age, let each and every one of them know that they will have a baby brother or sister soon. Toddlers of one to two years may not understand what a new baby means but talking about it and then seeing your reactions will make them excited too.

For preschoolers between two to four years, you can wait until the baby bump starts to show or when you start buying new stuff for the baby. To make this easy, you can start by showing them their own baby pictures. This will show them that they were once little babies just like the new baby about to be born. Also deliberately involving them in shopping and planning for the new baby on the way will be of great help.
Prepare to answer difficult questions with literal answers. For example, if they ask where the baby will come from, simply say from mom's belly and let him or her feel and touch the belly. To some extent, siblings may not be happy with the new development and this is totally normal. If this happens, keep assuring them that you will continue loving and caring for them as always.
#2. Let your children understand what's about to happen right before birth
Once again depending on their age, let the siblings get to know that the newborn baby is about to arrive. This will ensure that nothing gets them by surprise hence making the transition easy. By this time, they are well aware that they are going to be older siblings.
At this point, ask each and every one of them what they will be doing for the baby. Listen to their answers and guide them accordingly. If you plan to have your baby at the hospital, explain to them in simple terms that they can understand so as to dispel fears that their mom is sick. Let them know that you will be away for some days and that all of you will be okay.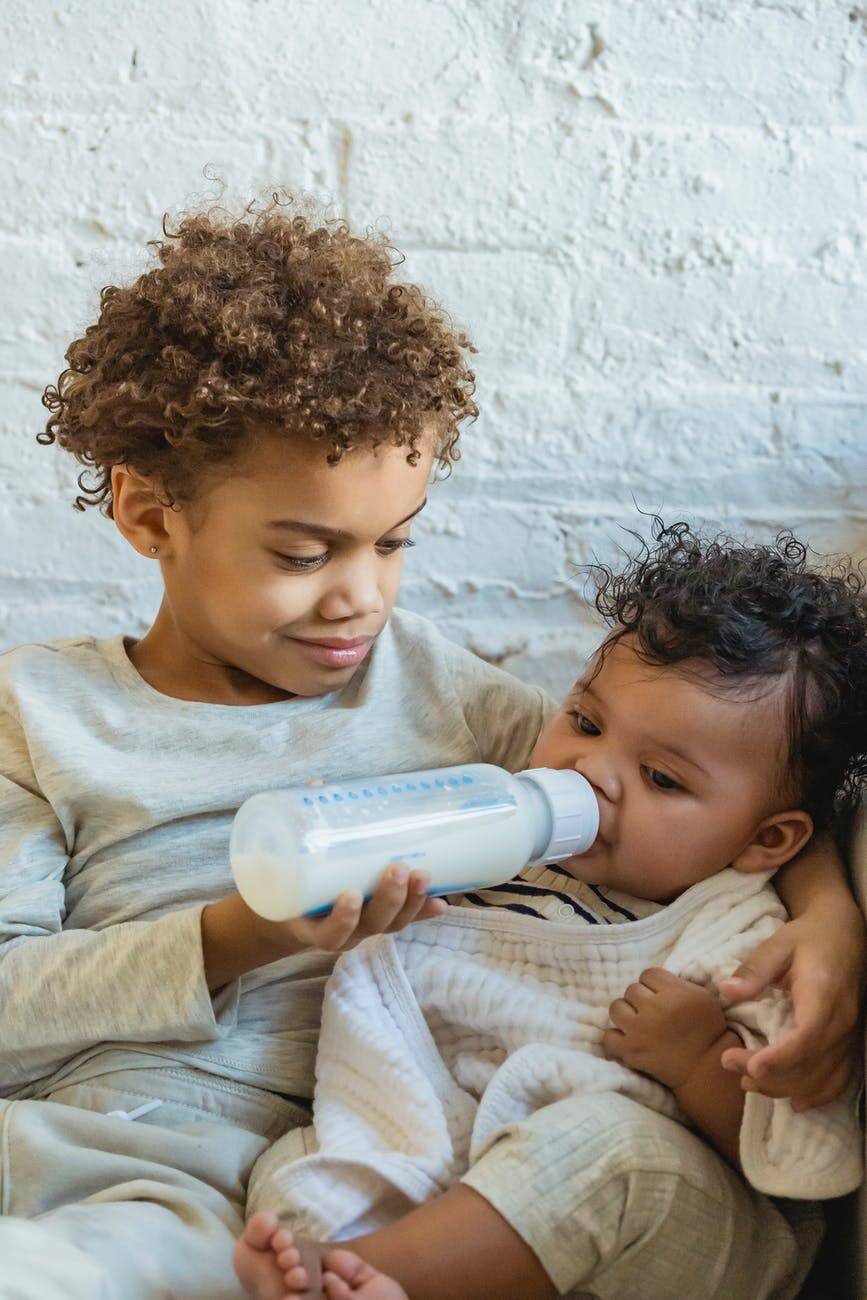 #3. After birth, have some personal time with the siblings
Hoping that the baby arrives safely and without any complications, allow the siblings to visit you at the hospital. Also ensure that you allocate some personal time to allow them to welcome their new sibling privately. This will help them to deal with the most natural feelings they will have at the moment without being scrutinized or laughed at. As parents, understand each child as seeing a newborn sibling for the first time can be emotionally overwhelming.
When it's time for other members of the extended family and friends to see the newborn, allow the siblings to be present. Give them room to introduce the newborn if they want to. By being present, they will also see other people's reaction towards the newborn.
#4. New life with the baby at home
Now that the baby is here safe and sound, it's time to continue with life back at home. As you all re-adjust and adjust to the new normal, everybody will have to deal with it in their own personal way. For the younger siblings, you might notice some regression in behavior. For instance, they might forget to use the potty when necessary. Some might demand to nurse just like the little baby. If you notice such change in behavior, do not overreact. Instead keep encouraging them to get back in line and congratulate them when they make positive progress.
Allow the siblings to assist in taking care of the baby depending on their capabilities. Older siblings can help in cuddling and soothing, changing diapers or even feeding the baby. The younger siblings can help in pushing the stroller, singing and keeping the baby company for instance.
From time to time, feel free to ask for help from other family members or friends in doing some chores at home. This will give you room to rest and also to bond with older siblings at a personal level. The bonding will assure them that you still love and value them deeply and are interested in their personal lives.